How Much is Your Health Worth?
NEW CLIENT SPECIAL - First massage $65
Therapeutic Massage (60 min /$85) (90 min/$125)
This treatment will leave people feeling relaxed mentally and physically. The treatment will include a number of different techniques, depending on what your body needs and how it reacts.
Swedish strokes are used to warm up the tissue. A combination of the following may be used:
petrissage (kneading)

muscle stripping

deep tissue

trigger point work

myofascial release techniques

active resistance stretching
KICKSTART YOUR HEALTH SPECIAL (new) - This is perfect for people who want to kick start their health, but have trouble forcing themselves to take the time for themselves!! Purchase 4 weekly sessions and get a 10% discount. You won't believe how great you'll feel mentally and physically after having regular massage for a month. These sessions must be used in the same month and purchased as a package. (One 60 minute massage for 4 weeks in a row/ $300)
Reiki Treatment (60 min /$85) (90 min/$120)
This treatment will leave people with a calm, peaceful mind, as if they have been meditating. A Reiki treatment is very effective for relief of pain, mental stress/anxiety, and injury recovery. It is also effective for the unseen wounds of war. This treatment focuses on stimulating the parasympathetic nervous system (PNS), which:
reduces stress

increases relaxation/relaxes muscles

allows the body to promote self healing

decreases the heart rate

restores the body to a state of calm
By shifting the body into the PNS, Reiki helps to:
clear the emotions

offer mental clarity

create deep relaxation resulting in restful sleep and a peaceful mind

balance the body and mind
During the Reiki treatment, the client lies on the table fully clothed, and the Reiki Master lightly places her hands on the client's body.
KICK START YOUR HEALTH SPECIAL -This is perfect for people who want to kick start their health, but have troubling forcing themselves to make the time their health!!
AromaTouch Technique with 8 Essential Oils (approximately 45 min/$65)
($40 for AromaTouch as an add on service to another treatment)
This treatment leaves people feeling calm, balanced, and refreshed. It uses 8 certified pure therapeutic grade essential oils from doTERRA.
The oils are applied down your spine and across your back with light strokes. The last two are applied on the feet following a very specific protocol.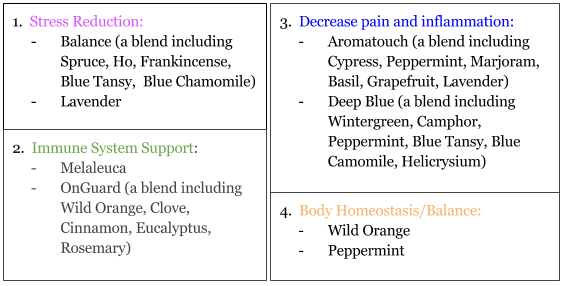 Full Body Massage + AromaTouch Technique (90 min/$125)
This treatment is a favorite of regular clients!
It combines the 8 oils of the AromaTouch Technique followed by a full body therapeutic massage. Note: This package is a 20% discount from the services offered separately.
Chair Massage – click here for information
Bodywork is an investment in your lifelong health and well being.