I specialize in pain and stress reduction, and overall healing. My practice is focused on providing you natural solutions like massage, Reiki, SHAPE techniques, and essential oils for health and wellness challenges.
Becoming a massage therapist was never in my original plan. I graduated from Cornell University with a degree in Russian Language and Soviet Studies with plans to make the Air Force a career. After a few years of active duty military service, I transferred to the Air Force Reserves and began working as a management consultant.
I loved horses and wanted a "horsey" job. I learned about the field of equine massage (yes, there is such a thing). The equine massage school I initially wanted to attend required students to be either vets, chiropractors, or massage therapists. I decided my best option was to become a human massage therapist.
Once I started massage therapy school, I realized how much I loved doing human massage! I graduated from AKS Massage School in Herndon, VA, in Nov. 2002. Initially, I was trained in Swedish/deep tissue work, but then continued to get training in advanced massage therapy techniques including Reiki, Cranial Sacral Therapy, Deep Tissue, Sports Massage, Bowen and more (including equine massage). In March 2003, I started practicing as a licensed massage therapist in northern Virginia. I had my own private clients and also worked part time at the Army Navy County Club.
I personally experienced how healing Reiki treatments can be when I broke both of my arms in the middle of massage school! I was my own test case for does it "work?" I healed very quickly, was back to doing full body massages, and graduated on time from massage school. I completed my training as a Reiki Master in 2005.
I relocated to the Huntsville, AL, area in 2008. I ran my massage practice part time while working full time as a management consultant. In March 2014, I opened a permanent location in Huntsville for Bodywork for Healing. I have recently incorporated a powerful new technique into my practice, called SHAPE. See "What is SHAPE" for more information.
I live on a small farm with horses, chickens and cats; I am a Christian.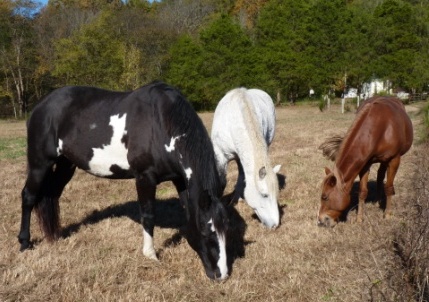 I retired from the AF Reserves in 2013.